Welcome! Here we will run the gamut and showcase all of TNC's Product line of entertainment related items available to the public: regular catalog items, collectibles, dvds, downloads, etc from NOT ONLY TNC, but from TNC's partnerships, friends and sponsors as well! We scratch your back if you scratch ours - while making sure the customer and audience is happily scratched the most!
Not only will this blog feature products and links, but it will keep you informed on the latest news and happenings related to TNC and its media, products, partners and the like.
Fans and consumers: enjoy our entertainment, social sites, interactivity and exclusive products!
Potential Partners: team up with our sales universe today!
-TNC Team
NEW PRODUCT!: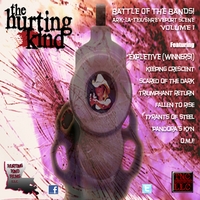 Here's our current TNC [Shreveport LLC] Link List:

THE HURTING KIND Feature-Trilogy
Official Website
:
http://www.thehurtingkindmovie.com/
Official THK Facebook Fan GROUP
:
http://www.facebook.com/group.php?gid=21249015077

Official THK BLOG:
TNCs Julee Cruise/Remix- Soundtrack EP, Official
:
http://www.cdbaby.com/cd/cruisegest
TNCs Julee Cruise/Remix-Thriller-Soundtrack EP, Facebook:
http://www.facebook.com/pages/Julee-CruiseNutcracker-An-American-Nightmare-EPCDMP3/241379029113?v=wall&ref=ts
TNCs Julee Cruise/Soundtrack EP, Itunes
http://phobos.apple.com/WebObjects/MZStore.woa/wa/viewAlbum?playListId=5952570
TNCs Julee Cruise/Remix- Soundtrack EP, Amazon
http://www.amazon.com/Julee-Cruise-Nutcracker-Nightmare-Maxi-Single/dp/B000QQWW2W/ref=sr_1_1?ie=UTF8&s=dmusic&qid=1263065651&sr=8-1-catcorr
TNCs Julee Cruise/Remix- Soundtrack EP, Emusic
http://www.emusic.com/album/10844/10844977.html?fref=700329
TNC'S feature motion-picture Nutcracker: An American Nightmare (psycho-thriller
)
Charles Ashley Event Production and Catering
http://www.shreveportcateringguys.com/